HOME OF ALL THINGS MINIATURE
Tiny Seashells-Dollhouse Collectibles

Tiny Treasures from the Sea
Micro -Tiny – Small Seashells — Hard-to-find Vintage Seashells
Starfish–Sand dollars–Coral–Sea glass–Operculum
Shells for Sailor's Valentines–Jewelry–Crafts–Weddings
Natural & Dyed Shells–Cut and Drilled Shells
Finished Mini Decor Pieces from Nature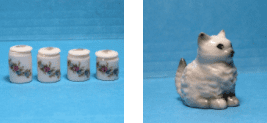 Quality Dollhouse Miniatures
Handcrafted Porcelain Dishes–Canisters–Bowls
Cake Plates–Kitchenware–Baking Supplies
Dresser Boxes–Perfume Bottles–Mirrors
Urns–Vases–Planters–Pottery

Craft Supplies for Miniatures & Jewelry
Mini Decals–Ribbon–Stones–Beads
Tiny Bottles–Jars–Decanters–Baskets–Planters
Glass Cloche–Fish Bowls–Candles–Balloons
Christmas Craft Needs
Whether you are looking for some special dollhouse collectible miniature, tiny seashells, mini decals or hard to find supplies for
a do-it-yourself creation, drop in often to browse and enjoy!
This site was last updated November 23, 2020
LOW FLAT RATE SHIPPING
US $4.95 First Class
How can I help you? Feel free to contact me with your miniature, seashell, decal and mini supply needs.
Ronni@trs240.com